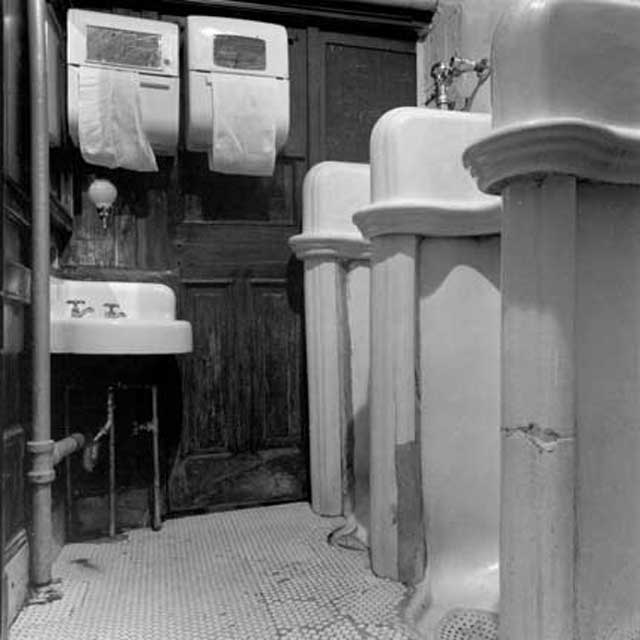 According to the folks at www.pjclarkes.com, "After 119 years, we've replaced the missing floorboards and finally straightened some of the pictures. The pay phone is still "Out of Order" and the broken cigarette machine remains broken. The ice block in the men's room and the paper plates are gone but the ashes of one of our patrons will reside behind the bar forever. Our little terrier faithfully watches "the joint" while PJ's famous jukebox plays Frank, Buddy and Sting. The wives' beer window stands open and anyone can say "So, set 'em, Joe" where Johnny Mercer penned "One for My Baby". We welcome you for another 119 years (at least) of good food, good drink and great conversation."
Submitted by HBHin 2004.
In late 2005, Vulkan69 wrote to point out that "...unfortunately [these] classic urinals have been replaced with your everyday American Standard style".
However, the following was written in the New York Times profile of P.J. Clarke's in 2006: "Philip Scotti, who put together the group of investors that took over the original P. J.'s in 2002, and who is also an owner of its spawn, said in a telephone conversation that he has plans to keep the brood growing. He's all but finalized a deal to put a P. J.'s near Lincoln Center. He's had thoughts about Washington, and he's had 10 copies of the original's famously oversize, winged porcelain urinals made, at a total cost of about $80,000. Ten was the minimum order that a special ceramics manufacturer in Ohio would accept, he said. Two of these urinals were installed in the new P. J.'s. Four pairs remain. P. J.'s could be the first restaurant chain with a destiny manifestly influenced by lavatory flourishes."