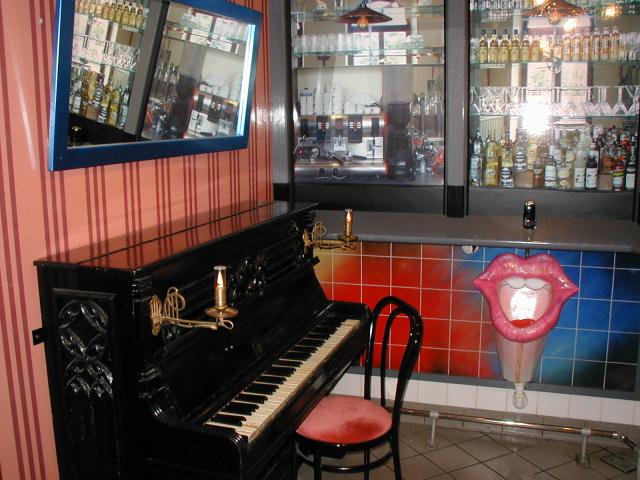 These photos were sent in by Clark Sorensen of Nature's Call in 2006. He writes: " The photos from Vienna were taken by a friend. It is the men's bathroom in the subway station for the Vienna Opera. It is set up like a bar although it wasn't being staffed when my friend was there. We think it is just set up to look like a bar but is just an elaborate bathroom. He had to pay to enter. It is by far the wildest bathroom I've seen to date "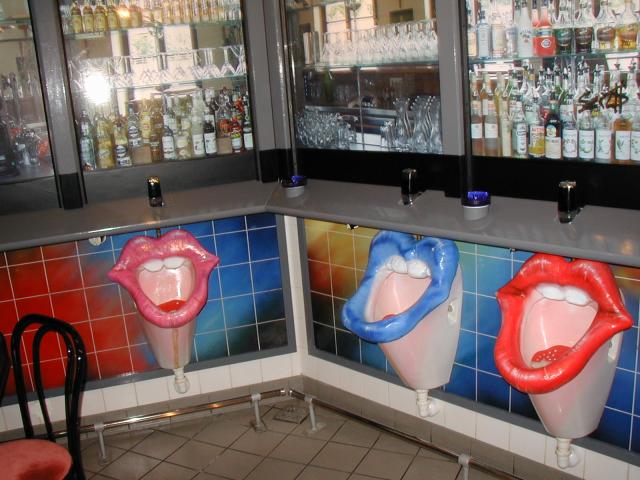 These urinal gained world-wide notoriety after the following Associated Press article, which was published on 10/20/2006:

Associated Press
Oct. 20, 2006 09:27 AM

VIENNA, Austria - A businessman has agreed to remove the "misogynistic" urinals from a public restroom near Vienna's opera house.

The urinals, which are located in the "Opera Toilet," a lavishly decorated public restroom, feature thick, lipsticked lips, a set of teeth and a bright red tongue.

"We think that it's tasteless, misogynistic and offensive," Marianne Lackner, media spokeswoman for the Vienna Department of Women's Affairs, told The Associated Press.

The department said it was appealing to the owner's good will, but was also exploring the possibility of legal action.

Neuhold Gerhard, owner of the toilet's operator Neuhold Gerhard Limited, said in an interview Thursday with Austrian public radio that he would remove the urinals.

"If there is such outrage in Austria then it's not a problem," he said. "We will remove them in the next 14 days."

Gerhard added that he thought it odd that public interest has only now been focused on the urinals, which have been around for three years.

"The thing that surprises us the most," Lackner said, "is that no man has ever said anything about this."

And the following follow-up story detailed the fate of these fixtures once they were removed:


Reuters 
Nov 02, 2006 2:00 PM
VIENNA (Reuters) - Four urinals shaped like a woman's lips went on sale on eBay on Thursday after being removed from a public toilet in Vienna following protests 
from women's groups who said they were sexist.

Designed by Viennese artist Rudolf Scheffel for the "toilet-bar Vienna" next to the National Opera, the urinals featured lips covered in red, orange or blue 
lipstick, a bright red tongue and gleaming white teeth.

The urinals were in the toilets for three years but raised an outcry in the run-up to Austria's October 1 parliamentary election when they were used by 
political party supporters attending rallies nearby.

Women's rights campaigners described the urinals as sexist and misogynist. They will be restored to their original condition before being sold, the toilet's 
operator said on auction Web site eBay.

"Each urinal will, of course, be meticulously cleaned," the seller said. "The artist himself will sandblast it, brush the mouth's teeth, and give them a new varnish."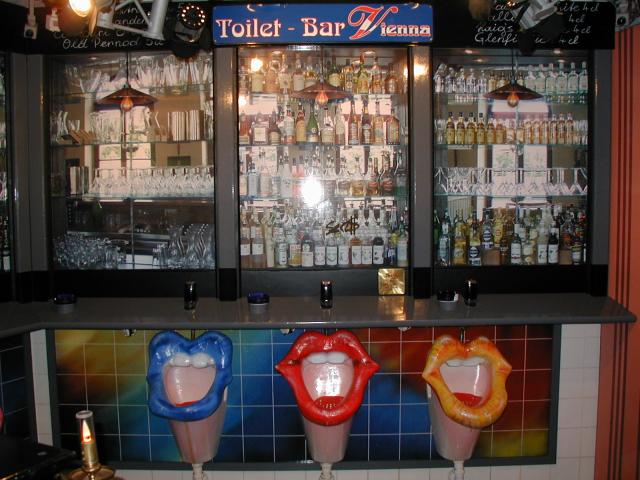 Below is a reproduction of an article depicting the urinals being dismantled in preparetion to being cleaned, shipped and sold to the highest bidder